Vaporizer a la Vapor Doc
The Vapor Doc vaporizer came on the scene some time in 2003 as a cheaper alternative to the original Vapor Brothers Vaporizer that mixes style and functionality at an affordable price. All of the Vapor Doc units are hand made from cabinet grade plywood. But, the fit and finish is not as nice as the Vapor Brothers units. But, they did incorporate an ON/OFF switch allowing you to set the heating element to a predetermined level and leave it there for your next session. One caveat with the Vapor Doc units is that from what we understand, the heating unit being used in the latest batches of units are far inferior to the original units, and not even in the same ball park as the completely redesigned heating element in the new Vapor Brothers units (more information on the re-design here.

It is a two piece unit with the heating element located securely inside the wooden base unit and the "whip" which is made of glass and food grade plastic tubing. As we said before, this is a knock-off of the Vapor Brother vaporizers and for more information on how it works, please see the vapor brothers page on this site.

Below is a picture of the Vapor Brothers herbal vaporizer. The picture is just of the base unit. The whip is basically a small glass piece with a screen in it attached to some tubing. You hold the glass piece up to the heating element seen in the middle of the opening on the front of the base unit. We did not have a chance to snap a photo of the Vapor Doc unit, but it is virtually identical to the Vapor Brothers unit with the exception of a rectangular switch on the front panel and the lack of the light under the base.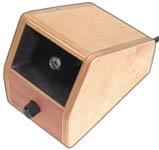 For those of you who are interested in the different models of vaporizers out there, I would recommend reading the review done in January of 2003 at www.vaporwarehouse.com. They review 3 of the top selling vaporizers on the market: The Air-2 Vapir unit, the Vapor Brothers Vaporizer and the BC unit by Rollies. Differnt heating methods such as convetion vaporization and remote heating vaporization are discussed as well.

We hope this brief explanation helps you on your quest for information about vaporizers. We would like to add that the vaporization of herbs has not been approved by the FDA to the best of our knowledge and using any of this information or products listed in this article is at your own risk.